FEATURED PRODUCTS
Welcome to
Success Is For Me
Would you like improvement in your health, wealth, weight, career, family and professional relationships, spiritual life and virtually any and every aspect of your life? If so, you can begin to experience life transformation in around 15 minutes and you'll do it with a groundbreaking interactive program that will keep you focused, energized and on track.
Get started today - click here to view demo
ABOUT SUCCESS COMPASS ™
The Success Compass ™ is an interactive program that can help you to achieve total control of your life. Today after you sign up you can begin taking your first steps towards success and achieving your dreams. It can provide you with Focus, Direction and Inspiration to achieve your dreams, whatever they may be, no matter how big or small.
Click Here to Get Started Now.
TAKE ACTION NOW
Having dreams and goals is important, but having an action plan and an action strategy to achieve them is essential. The Success Compass ™ can help you begin to identify your dreams and goals, and can also help you create your very own customized action plan, with time lines and strategies tailored exclusively to your needs. After signing up you will be well on your way towards achieving what you want most out of life.
Click Here to SIGN UP NOW.
INSTANT BENIFITS FROM JOINING:
After signing up you will have unlimited access at your fingertips to knowing what Charles Garcia and other champions know for free. Some of the benefits include:
Get a weekly newsletter delivered to you from your own personal success coach.
Receive up to 3 motivational quotes e-mailed to you per day.
Receive up to 3 reminders e-mailed to you each day to help keep you on track towards completing your goals.
Get the first 4 chapters from Charles best selling book "A Message From Garcia" for FREE.
IS THERE A CATCH?
Absolutely not. All we ask in return is that you will be kind enough to share your success story with us!

Thank you, and we wish you the best on your new journey towards success!
Success Stories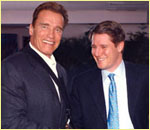 Success Is For Me founder Charles Garcia shaking hands with California Governor Arnold Schwarzenegger.
"America is the land of opportunity. I came to this country with empty pockets, a head filled with dreams and a desire to succeed. I tell young people all the time that if you believe in yourself, you can do anything. 'A Message from Garcia' wonderfully echoes these thoughts and more, explaining principles of success in a lighthearted manner that will pump you full of energy and excitement to dream big and achieve your goals."
Arnold Schwarzenegger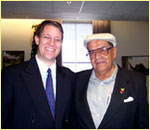 Charles pictured with Jaime Escalante Legendary calculus teacher from Garfield High School profiled in the award winning movie "Stand and Deliver". Jaime Escalante wrote the foreword to Garcia's best selling book "A Message From Garcia"
"This book is more than inspiring; it is a handbook that can be used by virtually all people, of any race, creed or color of any age, at any stage of their lives who want something more out of life. It can and should be read and followed by people who are not sure what it is that they want out of life or how to get it. "
Jaime Escalante