Back to the Shop
Featured Product - Book: Leadership Lessons of the White House Fellows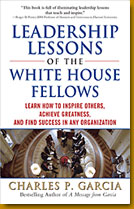 NEW BOOK!
Leadership Lessons
of the White House Fellows
by Charles P. Garcia (author)
Brand New Release from Best-Selling Author Charles P. Garcia!
One hundred percent of the royalties from this book will go to the White House Fellows Foundation, which supports the education program of the current class.
For nearly 45 years, the nonpartisan White House Fellows program has granted a handful of outstanding young Americans the opportunity to spend a year serving as special assistants to the president, vice president, cabinet secretaries, senior White House staff and other top-ranking government officials. Usually at a mid-career stage in their professional careers, the applicants number in the thousands—but fewer than twenty are chosen. Afterward, the experience often serves as a catalyst to remarkable careers marked by extraordinarily high levels of achievement in their professions, and in life. This book showcases the powerful Fellows leadership insights.


" In this excellent book, Charlie Garcia provides readers with splendid examples of what it takes to make a difference in our turbulent world." - Tom Johnson, Former CEO, CNN; Former Publisher, Los Angeles Times.
" This is a great read about leaders, about leadership and about making a difference." - Vice Admiral Ann E. Rondeau, the highest ranking woman in the United States Navy
" Leadership has never been more important than it is today, and this book helps us understand better how future leaders can be developed." - Robert L. Joss, Dean, Graduate School of Business, Stanford University
" It is a treasure trove of ideas about what successful leaders do to get results." - Rear Admiral Marsha Evans, U.S. Navy (Retired); former President, American Red Cross; former National Executive Director of Girl Scouts of the USA

Reflecting on their first-hand experience in watching and working with senior leaders of our country, this extraordinary group of our nation's next generation of leaders revealed their greatest lessons in a series of more than 200 exclusive interviews with Garcia. Representing five generations of White House Fellows, they also shared captivating stories from every presidential administration since the inception of the program. Garcia weaves these recollections with insightful quotations from the Fellows, drawing together the common threads of insights about leadership at the highest levels with life-changing advice for readers from all walks of life, at any stage of their career, and in any field.